It is our honor to announce the five finalists of the IxDA Global Student Competition, sponsored by Dell, Inc.
The competition had over 40 entries, representing university programs in Australia, China, Columbia, Denmark, India, the Netherlands, South Korea, Taiwan, and the United States. Of those many entries, five have earned a full scholarship to Interaction10, as well as the opportunity to compete for the Grand Prize: a Dell Tablet Laptop. The Runner-up will receive a Dell Mini Netbook.
IxDA community members who will be attending the conference, will have the opportunity to meet these talented students at Interaction10, and see their work first-hand. The finalists will be presenting posters of the work described below, as well as describing the work they will be doing on-site, just before the conference begins, in a live design challenge. Conference attendees will be invited to vote on both pieces of work and contribute to who will be selected for competition winner and runner up.
The finalists (in no particular order):
* Indicates the designer who will be continuing on in the competition in the case of a team project submission.
Kevin Cannon*, Tobias Toft
Copenhagen Institute of Interaction Design
Future Mobile Interfaces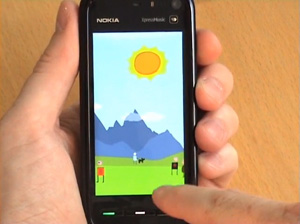 Exploring future mobile UI concepts and how they might change in the new few years.
Vincent Steurs
Delft University of Technology
Get Around (The Personal Travel Assistant)
The Personal Travel Assistant (PTA) is a mobile application called Get Around. It supports you in getting around; from finding your way to meeting up with friends, traveling along, finding a nice bar or the closest supermarket and much more.
The goal of the PTA is to increase the usage of public transportation. The means is offering citizens a service which makes them feel as being in control over the situation when traveling from A to B, using public transportation. The project is part of a bigger program called 'Connected Urban Development', an initiative of Cisco Internet Business Solutions Group and the cities of Amsterdam, San Francisco and Seoul. The mission of the program is to demonstrate how to reduce carbon emissions by introducing fundamental improvements in the efficiency of the urban infrastructure through information and communications technology.
With current technologies such as GPS, 3G internet connectivity and digital compass, we are at the beginning of a mobile revolution. Social networking is mainly an online activity these days. What if we could integrate it in our daily lives, merging in our every day routine of getting around? With Get Around I explored the possibilities a mobile application could offer. Why should we meet at a specific time and place if our phone could help us find each other? Could we find out who is traveling on the same route, or find friends when walking around down town? Yes we can! And Get Around shows you how.
Adam Little
Copenhagen Institute of Interaction Design
Get Together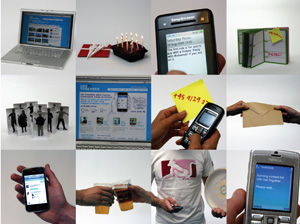 Get Together is my final project at the Interaction Design Pilot Year, a Master's level education at the Copenhagen Institute of Interaction Design in partnership with the Danish Design School. Get Together was developed independently over three months.
Get Together is an online service that uses the web and SMS to help friends coordinate social activities. It is designed for collaborating on upcoming events (i.e. birthday party) or to help friends make an event when none exists (i.e. friday night after work). Get Together strives to use the power of social software and mobile phones to facilitate face-to-face communication between friends living in the same city and it works on any mobile phone.
Daniel Erwin*, Radhika Gupta, Yixiu Wu
Illinois Institute of Technology / Institute of Design
Scoop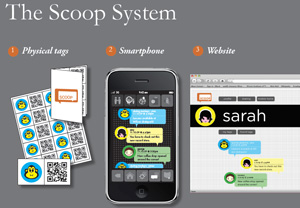 Scoop is the product of a semester-long Interactive Media Workshop class with Professor Anijo Mathew at the IIT Institute of Design, created by Daniel Erwin, Radhika Gupta, and Yixiu Wu. Through a process of exploring new technological and social opportunities, engaging the target audience in contextual interviews, and developing our ideas through multiple rounds of prototyping, we created a mobile-phone and physical tag platform to encourage informal learning in the urban landscape.
Learning is primarily motivated by what we like, influenced by who we know and dependent on where we are. Scoop supports informal learning by encouraging context-dependent information to be exchanged among friends and interest groups, through physical tags left in the city. These customizable tags create a shared identity for groups, motivating their members to share information informally via "word-of- mouth" – creating serendipitous moments of informal learning for high schoolers.
Ahmed Riaz*, Chirapat Vorratnchaiphan, Susan Huang, Linda Chang, Eric Dorf
California College of the Arts
GM/Spot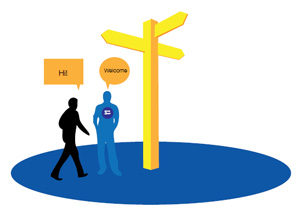 This project was initially developed for the Fall 2009 Semester of Innovation Studio of the Design Strategy MBA program at California College of the Arts. Students were challenged to explore different domains in developing an innovation proposal for General Motors, in light of its recent government "underwriting" and restructuring. As a case study, General Motors was a fascinating being both very domestic and international in its brand image, the company's future had numerous implications for the global economy, at a time of intense transition. As a major corporation with multi-faceted obligations and complex challenges, reforming GM could take many forms.
---
---
The judging process was made incredibly difficult by the variety and quality of many of the submissions.
The following three entries are the Chairperson's Honorable Mentions:
Eilidh Dickson
Copenhagen Institute of Interaction Design
Life is an Act of Balance
Life is an act of balance was my final year project from the masters program at CIID (Pilot Year) The duration of the project lasted for 12 weeks.
The starting point of the project was driven by the curiosity to explore how personal informatics could facilitate behaviour change, and if this could enable people to feel like they have a more balanced life. I wanted to understand what are the possibilities when people are made more aware of their lifestyle patterns.
Martijn van Loon
Delft University of Technology
Emotional Fridge
This project started from a course at university to study the appearance of a large touchscreen in our daily environment; the kitchen. The study is placed for 2020. By then it is likely a fridge can scan its contents by RFID tags in products. What would be the meaning/usefulness of such a large touchscreen and information? How should we place information on it? How should we interact with it?
Our vision is that people are disconnected from their eating behavior and may need new tools to guide them. We used a person with obesity as starting point for our design. It is an exploration of a more emotional attitude towards product development. Can we make a product that stimulates us in a more subtle way? That makes us care.
Jared Allen
Illinois Institute of Technology / Institute of Design
Sticki – Spread the Word
Sticki is a mobile application that allows information to spread throughout a community much like word-of-mouth. Stickis are little digital notes you create with your smart phone. They can contain text, images, and video. You use them to share information with people around you by "sticking" them to physical locations. This is done using geo coordinates. Throughout your day you automatically pick-up other people's Stickis based on your interests. You can copy these Stickis by Re-Sticking them to new locations. This allows information to spread geographically and reach more people.
There are plenty of applications that let you attach digital information to physical locations. Sticki is different because it allows people to take such information and copy it to new locations. This allows popular information to spread throughout a community much like word-of-mouth.
shuang HU, huiyan QIN, xiaolei ZHANG, hui TAN
Jiangnan University
Shunting
Shunting is an modular design of pavement line in order to branch pedestrians in rush-hour. Every modular as an unit of zebra strip composed by several equilateral triangular pyramids, of which one side is white and the other side is gray. So people can only notice one color no matter which side they stand as the line of sight limitations.
The zebra stripe made by this modular can be separated into two parts, every side pedestrians of road can only see a half of zebra stripe. They would go along two disjoint line, since people identify subconsciously that the white part of zebra stripe is walking range.